What makes us different?
We start with real liquid (bourbon, zinfandel wine, fresh squeezed lemon juice, or fresh squeezed lime juice) and infuse it into salt. That is the base for our rub. Not an artificial flavor but real flavor. Then the other spices are added, but no fillers. Small batch rubs that are unique and high quality.
Whether they use a smoker, grill, broiler or cast-iron skillet they like to cook, this is the perfect culinary addition to their pantry.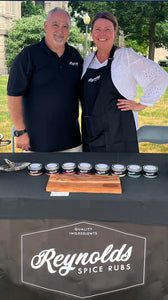 About Us
My name is Tracy. During the pandemic, I decided to do something new and start my own business. My husband, Ron, likes to smoke meat and try different rubs. I had an idea for a business that I knew he could get behind! My plan was to experiment with various salts and infuse them with different types of liquids to use as the base for my rub. I love to cook and thought maybe I could make something different than all the other seasonings and rubs Ron enjoys. After almost a year of working, I was ready to start selling!
Some facts:
-It takes 16 hours to infuse one batch of salts.
-Many of our ingredients are organic; all are high quality.
-Our rubs are made in Indiana, USA.
Blog
---
https://youtu.be/Y0dMS6lzaI4
Before I started this company, I worked for a wonderful lady who became a friend. She ran a concierge company. We did work for other business, and one of the...